History of Tuskegee Army Nurses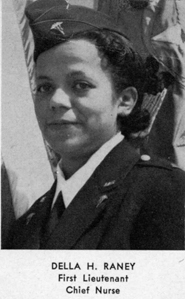 March 12, 1942-The principal chief nurse, Lieutenant Della Raney, was joined by four other nurses to staff the nursing unit of the station hospital at Tuskegee Army Air Field in Tuskegee, Alabama. Station hospital documents do not specifically identify the four other women who joined Raney who was the first African-American woman in the Army Nurse Corps (ANC) during World War II, but to be in the ANC during that period, a woman had to be a nursing school graduate, a registered nurse (R.N.) and a member of a national nursing organization. For "Negro" nurses, that organization was, more than likely, the National Association of Colored Graduate Nurses (NACGN). The NACGN had not only been lobbying to place black nurses into non-segregated hospitals, but to have them recognized to serve in the military.
These 17 nurses were in the 1942 yearbook of Tuskegee Army Flying School. They were part of the station hospital's medical department for the Alabama base used for the advanced training of black men learning to fly military planes. Their pictures appeared in Wings Over America from the Tuskegee Army Flying School Army Air Forces, 66th Flight Training Detachment and Army Air Forces, SE Training Center which was published by the Army and Navy Publishing Co., Inc., Main Office, Baton Rouge, LA. CPT Charles Baylis, USMC (RET) served as the Editor in Chief and Director of Field Operations.